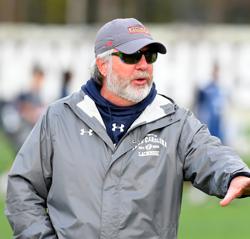 Founding director Michael Desmond. A former elementary school PE teacher and athletic director moved to Charlotte in 1998 from Long Island, NY. After two seasons as a varsity lacrosse assistant at Charlotte Latin School, then one season at Providence Day School, Desmond started Mecklenburg Youth Lacrosse in the spring of 2001. That year 83 third, fourth & fifth-grade boys, participated in a "skill development" camp-like atmosphere. He launched StickWithUs.org the next year - with the help of dedicated Charlotte area high school lacrosse coaches and numerous parent volunteers grew the organization into year-round programs for boys and girls from first grade through high school, with emphasis on skill development and participation in multiple sports, his staff of professionals & volunteers has built StickWithUs into one of the most respected youth programs in the Carolinas.
In 2004 StickWithUs.org established a scholarship fund that donates thousands of dollars a year to student-athletes that would not otherwise be able to participate in lacrosse.
In 2006 founded the NC Great 38 All-Star Lacrosse game.
By 2009 more than 2,500 families participated in one of twenty-plus StickWithUs.org lacrosse programs.
In 2013 started the Champions Challenge in support of the Wounded Warrior Project.
For his contributions to the growth of lacrosse in the Carolinas, Coach Desmond was named the US Lacrosse-NC Chapter "Man of the Year" in both 2009 & 2015.
Michael is a 1985 graduate of Niagara University, NY with a degree in Business Management then completed his Masters in Education at Stony Brook University, NY in 1998. He lives in South Charlotte with his wife Suzanne where they raised their two sons, Andrew, a graduate of The Ohio State University; and Ethan a graduate of the University of Colorado, Boulder.