October 24,25, 2020 - CHARLOTTE, NC
THE CHAMPIONSHIP FORMAT
Teams play for a championship in all divisions.
All teams are scheduled five games each, when necessary teams will play a sixth championship game.
Games consist of four, twelve-minute running quarters.
DIVISIONS
HIGH SCHOOL DIVISIONS
HIGH SCHOOL 2021/2022 A
HIGH SCHOOL 2021/2022 B
HIGH SCHOOL 2022/2023 A
HIGH SCHOOL 2022/2023 B
HIGH SCHOOL 2024 A
MIDDLE SCHOOL DIVISIONS
MIDDLE SCHOOL 2025 A
MIDDLE SCHOOL 2025/26 B
MIDDLE SCHOOL 2026 A
MIDDLE SCHOOL 2026/27 B
MIDDLE SCHOOL 2027 A
YOUTH DIVISIONS
YOUTH 2028
YOUTH 2029/30 (will play 7 v 7 or 8 v 8 on shorter fields)
With Twelve divisions, we will make every effort to guarantee you are placed in a division vs. like competition.
TEAM REGISTRATION
EARLY BIRD DISCOUNT. Register between August 1 and August 28, 2020 and fee is $1600 per team; a $500.00 nonrefundable deposit per team is due at registration, balance collected Friday, October 2
Register between August 29 and September 25, 2020 fee is $1700 per team; a $500.00 nonrefundable deposit per team is due at registration, balance collected Friday, October 2
Register after September 25 and fee is $1,800 per team a $500.00 nonrefundable deposit per team is due at registration, balance collected Friday, October 2

All online registration fees are plus applicable credit card fees. Once a division is full a wait list will be started.
VENUE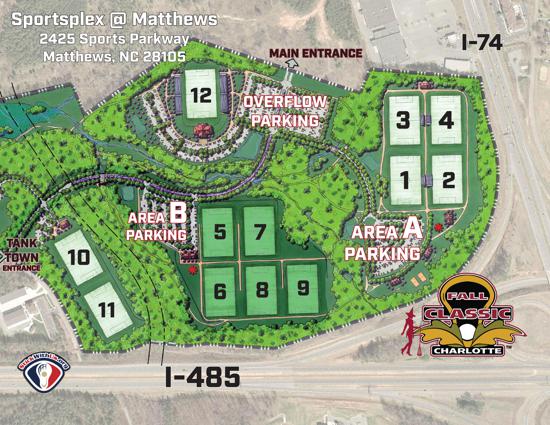 When possible ALL games in the boys division played at the Sportsplex at Matthews. Eleven (11) turf fields at ONE location with plenty of parking. Best tourney venue in the southeast. When/if necessary we will also use Elon Park in South Charlotte (4 turf fields) for Sunday playoffs or weather related issues.
Matthews SportsPlex - 11210 Brigman Rd, Matthews, NC 28105 at the Intersection of Brigman Rd - Tanktown Rd, Matthews, NC 28105 (Enter off of Brigman Rd - Behind the AMF Carolina Lanes) Map It!
Questions via email to info@carolinalacrosseassociation.com
IMLCA ACCREDITED
The Charlotte Fall Lacrosse Classic is an IMLCA Platinum Standard Event
REFUND POLICY
All deposits are non-refundable. No team / individual player will receive a full refund. The tournament has fixed expenses relating to field rental & facilities, staging and set-up costs, insurance, personnel and other matters regardless of cancellation. Accordingly, teams will not receive a full refund of the entry fee if the tournament is cancelled. Mecklenburg County Park & Rec staff, not tournament/event organizers, have final say on whether the tournament will take place due to weather and field conditions. Please be advised that there are no rain dates. For the safety of all participants, the tournament staff and by default the facility staff reserve the right to cancel, delay or interrupt play until weather clears and is deemed safe. Interrupted games will continue where they left off. All officials are expected to use their discretion and follow safety rules to stop or suspend games for appropriate intervals until it is deemed safe by staff and officials. Play will be stopped for at least 20 minutes following a lightning strike or thunder. During-tournament/event cancellation: In the event cancels only part of a scheduled event (i.e. one day of a two-day tournament), the refund policy will depend on the number of completed games as outlined below: Teams who have completed more than half of their quarantted games (3 of 5, 2 of 3 etc) or more games are not eligible for a refund and forfeit 100% of their registration fee. Teams who have completed less than three games will receive a refund of their balance paid above the non-refundable deposit. We reserve the right to adjust game times, shorten games if it deems it to be in the best interest of all registrants involved in an effort to complete as much of the event as possible. We will do their best to refund coaches in a timely manner, following any tournament/event cancellations in accordance with the Policies outlined above.
SOLD OUT - REGISTRATION FOR 2019 IS CLOSED
Questions via email to info@carolinalacrosseassociation.com