Information for Players & Families
COVID-19 FAMILY, PLAYERS, SPECTATOR & STAFF GUIDELINES
TEAM STAFF
Coaches should not enter the facility more than 45 minutes prior to their game time. No more than three coaches/staff will be permitted on each of the team's benches. If there are more than three, the games will be stopped until the extra staff leave the fields. Coaches and team staff are asked to exit the field immediately after their games. Everyone in the facility, including coaches & staff will be required to wear a face covering unless on the field playing, officiating, or coaching.
FILMING or PHOTOGRAPHY
Teams players/parents/staff are not permitted to video or set up their own video to capture the games. The Fall Classic has contracted with CruitCast to film all the division games (they are also live streaming the final four and the championship games in these divisions).
Any official "team" photographers must observe the same spectator rules on this page - no photographers will be permitted on the players sidelines.
PLAYERS ENTERING AND EXITING THE FIELDS
Players should not enter the facility more than 45 minutes prior to their game time. Equipment bags are not allowed out of the car or on the fields. All players should make an effort to bring minimal extra gear or supplies.
Upon arrival, park your vehicle, your son should get completely dressed at the car with all his lacrosse gear. He should walk to the field dressed and ready to play no sooner than 15-20 minutes prior to the start of his game.
No bags or additional equipment will be allowed on the fields. Players, coaches, and team staff are asked to exit the field immediately after their games.
TEAM TENTS
No tents permitted anywhere on fields. You can set up in parking lots, near your vehicle.
WATER
There are NO water sources at the fields for the players to fill up their water bottles. We recommend players carry to the field a 1/2 gallon container of water and refill it from their own source as needed (not a public source).

SPECTATORS & FANS
For the safety of our patrons and employees we are enforcing the following rules.
Do NOT enter the facility if you have recently been ill, had a fever, cough or shortness of breath.
Everyone in the facility (parents, coaches, players, officials, spectators, staff, etc.) will be required to wear a face covering unless on the field playing, officiating or coaching. Person's exempt due to health conditions are also not required to wear a mask.
Spectators should not enter the facility more than 15 minutes prior to their game time.
Water coolers are not allowed in the complex.
Fans and spectators will be asked to view the games from the sidelines opposite the team benches at all fields. Coaches ONLY on the team bench and players sidelines.
Spectators will be required to practice proper social distancing.
Spectators should bring their own chair if possible. If seated in bleachers maintain a minimum of 6' between spectators. Staff will be patrolling for compliance, failing to do so may lead to ejection from the facility.
We encourage all players and spectators to self-sanitize the areas they will be occupying.
VIDEO SERVICE
Watch the 2020 FALL CLASSIC live on CruitCast. College coaches, families, friends, and fans will be able to watch the event from anywhere with live streaming video. Watch live, watch later, and even download video on desktop, tablet, or mobile devices. Don't miss a moment of the action. For more info click on the CruitCast logo below!

TRAVEL PLANS
ARRIVAL All teams should plan on playing at 8:00 AM on Saturday morning.
DEPARTURE All teams should plan on playing until 6:00 PM on Sunday afternoon.
GAMES & PLAYOFFS
A Note on Scheduling: The Charlotte Fall Lacrosse Classic is committed to a first-class lacrosse experience for players, coaches, and families. The organizers of the event have been running, coaching, and playing in lacrosse tournaments for more than 25 years. When setting the championship format brackets, we take into consideration several factors including, but not limited to: special scheduling requests by several clubs, the number of teams in the division, the level of competition, and the geographic regions of the teams. It is our first goal for you to play as many different teams from as many different areas as possible at our events. From there, we proceed to set the format that is the best and fairest way to advance to a championship. Every division has different characteristics and it is our goal to consider as many of them as we can when planning and scheduling. Every team plays a total of 5 games. Each team will be scheduled 4 games (3 Saturday & 1 Sunday morning) - after your 4th game, teams are seeded for the playoffs - the top 4 team in each division advance to the final 4 and the winners of these final 4 games advance to a 6th championship game - the remainder of the division will play their 5th game versus a division team with a similar record. Thanks in advance for your support and best of luck! The Top teams are determined by 1. W-L record; 2. head to head; 3. GA = Goals Against (if we are equal with W-L the team that gave up the fewest goals will advance); 5. coin flip.
CONCESSIONS
There will be food vendors at all venues. Teams are welcome to bring ONLY 0ne (1) cooler per team, and NO outside food allowed. NO grills and NO alcoholic beverages at any of the sites.
TOURNEY GEAR
Will be offered for sale at venues. We accept Visa, Mastercard, checks, and cash. Tourney stores will open at all locations at approximately 9AM.
Tourney Gear can also be purchased pre & post event online at: FALL CLASSIC ONLINE STORE
NO PETS
No pets are allowed at any of the fields at any of the facilities (on or off the fields).
THE VENUES
North Myrtle Beach Park and Sports Complex
150 Citizens Cir, Little River, SC 29566
If necessary, overflow games will be played at Central Park 1400 Outrigger Rd, North Myrtle Beach, SC 29582
College Coaches in Attendance at the Classic - Division II & III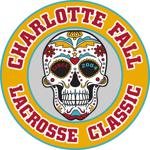 Birmingham Southern (AL) Catawba University (NC) Pfeiffer University (NC) Wingate University (NC) Mount Olive University (NC) Queens University of Charlotte (NC) Belmont-Abbey College (NC) Mars Hill College (NC)Florida Southern (FL) Lees-McRae (NC) Saint Andrew's (NC) Limestone College (SC) Lenoir-Rhyne (NC) Brevard College (NC) Tusculum Ciollege (TN) Kennesaw State (GA) Centre College (KY) Hampden-Sydney College (VA) Roanoke College (VA) Randolph-Macon College (VA) Guilford College (NC) Ferrum College (VA) Sewanee University of the South (TN) Greensboro College (NC)Lynchburg College (VA) Birmingham Southern College (AL) Methodist University (NC) Emmanuel College (GA) North Greenville College (SC) Piedmont College (SC)