THE ULTIMATE WINTER LEAGUE EXPERIENCE
2022-23 Marks Polar Bear Lacrosse 20th Season!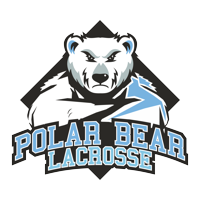 Play outdoors on Sundays (HS boys play on Saturday afternoons) with your teammates, full field games, and certified officials. Players are assigned to teams by the school they attend. If your school does not have a full team, players from the same school are kept together and are assigned to teams by the positions they play. Athletes are placed in the division that best suits their age and playing ability.
Polar Bear Lacrosse League is open to boys and girls in Grades 1-12. Two hours of competition each week, teams play eight (8) games over four weekends, including a championship! If a division has enough teams, and the winter weather cooperates we may schedule additional games - this policy varies from year to year and from division to division.
Eight divisions to ensure you are placed on a team that best suits your age and playing ability. Please note, there are no weekday practices for Polar Bear League.
Players must have at least one year of game experience to enroll in the Polar Bear League. Players with little or no game experience will be placed in the CUB Division. The Polar Bear Cub "learn to play" Division is open to both boys and girls from 1st to 8th grades. Cubs sessions are 12-1:30 on Sundays only - these sessions consist of learning basic lacrosse skills for new players. Cubs do not play games, but may scrimmage towards the end of the Cubs season if the athletes are ready.
POLAR BEAR WINTER LEAGUE DETAILS
2022-23 GAME DATES
Sundays - GIRLS, MS BOYS, YOUTH BOYS
Sunday, Dec 4, 2022 GAME DATE
Sunday, Dec 11, 2022 GAME DATE
Sunday, Dec 18 2022 GAME DATE
Sunday, Dec 22, 2022 OFF winter break
Sunday, January , 2023 OFF winter break
Sunday, Jan 8, 2023 GAME DATE
sunday, Jan 15 OFF MLK, Jr weekend
Sunday, Jan 22, 2023 weather make up if needed

Saturday's - HIGH SCHOOL BOYS
Saturday, Dec 3, 2022 GAME DATE
Saturday, Dec 10, 2022 GAME DATE
Saturday, Dec 17, 2022 GAME DATE
Saturday, Dec 24, 2022 OFF winter break
Saturday, December 31, 2022 OFF winter break
Saturday, Jan 7, 2023 GAME DATE
Saturday, Jan 14, 2023 OFF MLK, Jr weekend
Saturday, Jan 21, 2023 westher make up id neededGAME DATE

LOCATION
Polar Bear games will be played at the centrally located Sportsplex at Matthews on nine turf fields - all games guaranteed!
11210 Brigman Rd, Matthews, NC 28105 at the Intersection of: Brigman Rd - Tanktown Rd, Matthews, NC [Map it!]
Overflow games played at Elon Park 11435 Ardrey Kell Road Charlotte, N.C. 28277 Map It!
DIVISIONS

BOYS DIVISION
High school boys 9th-12th
Middle school boys 7th-8th
Youth boys 5th - 6th
Youth boys 3rd - 4th
Boys CUB Division 1st thru 8th grade for players with less than one season experience 12-1:30 PM

GIRLS DIVISION
High school girls 9th-12th
Middle school girls 7th-8th
Youth girls 5th -6th
Youth girls 3rd-4th
Girls CUB Division 1st thru 8th grade for players with less than one season experience 12-1:30 PM

COST
$195 per player (plus applicable credit card fees)
REGISTRATION DEADLINE
Registration Deadline Friday, November 18, 2022