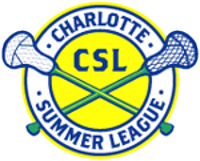 CANCELED SUMMER 2020 DUE TO COVID-19 FOR HIGH SCHOOL, MIDDLE SCHOOL, AND YOUTH PLAYERS - See you in 2021!
Since the summer of 2007, Charlotte Summer League has provided a "laid back" casual but competitive atmosphere to keep your skills sharp through the summer.
Games only - no practices....just come out and play!! Please note that it is okay to miss when you are away on vacation or not in town.

CHARLOTTE SUMMER LEAGUE INFO
DATES - CANCELED FOR 2020
Tuesday and Wednesday evenings - two nights per week.
12 game dates, starts Tuesday, July 7 through Wednesday, August 12
Six weeks (12 game dates). Registration only $195 per player.
LOCATION
Elon Park, South Charlotte
Convenient location, great facilities (no rain out turf fields) terrific coaching, fun lacrosse in a casual environment and competitive atmosphere!
DIVISIONS
Youth boys: players who just completed Grades 3-5
MS boys: players who just completed Grades 6-8
HS Boys: players who just completed Grades 9-12 (graduated seniors may play)
TIMES
Youth Division from 6:30 to 7:45 PM Youth players who just completed 1,2,3,4,5th grade
Middle school division from 6:30 to 7:45 PM Middle School players who just completed 6, 7 & 8th grade
High School Division from 7:45 to 9:00 PM HS boys who just completed 9,10,11th grade
COST
$195 per player (plus applicable credit card fees)
REGISTRATION DEADLINE
Friday, July 3, 2020